Resume Review Service Our team and mission
Resumereviewservice.net is a professional review company that provides readers with independent 360° critiques of the USA's most popular resume writing services. Our team consists of well-educated and experienced professionals.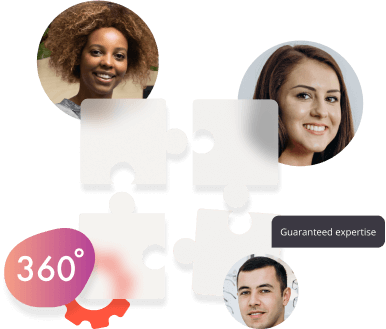 Let us introduce
our fascinating team!
Chief editor

Andrew Myers

With a Master's degree in English language and literature and extensive experience in online publishing, Andrew makes our platform easy to read, valuable, and engaging. In addition, Andrew collaborates very closely with our team of professional resume writers and recruiters, so he is aware of the newest job trends, labor market changes, and opportunities.

Show quote

"Resume is not just a document. It plays a crucial part during a job search, and I wish I had a platform like this when I was trying to create my resume. Despite being a writer and editor, I still can not master the art of resume writing. So I like that our platform can help people differentiate good resume writing services from bad ones and choose the most appropriate service to get the desired job quicker."

Professional recruiter with over twelve years of experience. She has found and selected over 1000 first-class specialists for the Fortune 500 top companies. Amy knows what to look for in the resume, how to scan it within a few seconds, and how ATS works. Her practical expertise helps her easily understand if the candidate is worth attention according to his professional profile.

Show quote

"Hundreds of resumes, cover letters, and LinkedIn profiles go through me every day. I know that most companies do not have time to interview every candidate; therefore, my job is to find the best ones right away, judging only by their documents. My perfect candidate is a person with an equal amount of relevant job experience and a passion for working for the company. That is why it is so important to have a spot-on resume, cover letter, and LinkedIn, which will show both in one place."

resume expert

Rob Mitchell

Certified resume expert with seven years of experience crafting professional resumes, cover letters, LinkedIn profiles, and biographies for C-suite leaders, presidents, and vice presidents. He knows how to create a resume that tells a career story in a compelling, articulate manner, increasing the odds of getting interviews and landing the dream job.

Show quote

"Recruiters and clients are no longer interested in robotic resumes, especially for high-level executives. Instead, resume writing should be focused on understanding and listening to clients' unique needs to deliver appropriate, customized solutions and services that satisfy requirements and exceed expectations"

resume, biographies writer

Gabriella Morris

Certified federal resume, KSA, and biographies writer with fifteen years of experience. She has customized thousands of government resume writing for federal jobs from GS-05 to SES. Gabriella's expertise is one of the rarest because she worked both as a federal writer and a recruiter. Therefore she knows every little thing that should be included in any federal job application package and how badly written KSA can lead to refusal even if you are a top specialing.

Show quote

"Writing a federal resume requires enormous attention to detail, the right keywords, and a comprehensive understanding of grading application packages. One misspelled word or wrong template costs you an interview invitation. Therefore, I would say that creating documents for a federal job is an art that should be performed only by top-notch professionals, not to turn into the kids' scribbles."
Contact us
Please send us your feedback about your experience with the resume writing company you have hired
[email protected]